Located in Baie-d'Urfé, the Baie-d'Urfé Boating club (BDBC)is a beautiful, inexpensive and safe place to moor your sail or motor boat. The club is situated between Fritz's farm and the Baie-d'Urfé city hall on Lakeshore road near Morgan road. BDBC is open and operational from mid May to mid October.
"Baie-d'Urfé (2006 Population 3,902) is a suburb located near to the western tip of the Island of Montreal,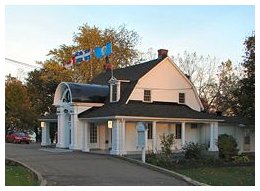 Baie-d'Urfé is a "bedroom community" that extends from Autoroute 40 to Lac Saint-Louis — primarily residential, it is characterized by large houses on spacious lots. The municipality has retained a rural charm, accentuated by its lack of sidewalks and limited commercial activity. It is a favorite spot for boaters, who use the local marinas. The community is located within the region usually referred to as the West Island".*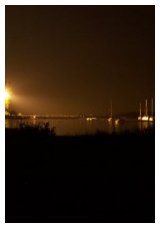 Baie-d'Urfé Boating club is a no frills operation, it provides to its members a boat ramp, docks, moorings, and dinghy to access moored boats. Moored boats are therefore accessible 24 hours a day. No other facilities or services are offered. Since BDBC offers minimal facilities and services, the cost of membership is inexpensive compared to other clubs on Lake St Louis, in fact it is the best deal on lake St Louis. In addition although members are required to lend a helping hand, the time required is generally limited to a few hours in the spring and fall when docks are put in and taken out. Some additional time may be required to effectuate dock repairs in spring.The mooring field is generally comprised of approximately 30 boats
The mooring field is well protected from the west and north and somewhat protected from the south. The maximum depth of the mooring field is 6 feet and there is approximately 4 feet of water at the docks when water levels are at chart datum. .
Three club dinghys are available and are self serve. Boats can either be moored or trailered down the ramp as required. There is limited parking for cars and boat trailers. BDBC is serviced by the 210 bus which stops at the town hall. Grocery stores, fuel stations and a repair facilities are located nearby.
BDBC's location is tranquil and beautiful. Baie-d'Urfé Town hall, garden and Milleium pond are adjacent to the east and Fritz's farm is to the West and North. Trees and flower are abundant. This is a great place for a family picnic on a Sunday afternoon. The aquatic wild life is surprisely diverse for the island of Montreal. Muskrats, otters, frogs and the occasional turtle are observed near the shoreline. Fishing on lake St Louis is excellent. .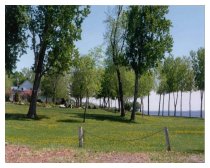 Water quality as assessed by environment Quebec is generally excellent throughout the summer(a water quality link is provided at left). Members often spend a the weekend quietly moored in the bay or nearby at Dowker island bay and are often found swimming on the south side of Dowker.
The mooring field is limited to approximatle 30 boats. Moorings are generally available in early spring.
See you soon---BDBC members---
* Source: Wikipedia
Night Mooring field photo source: Amorph
City hall photo source: Wikipedia